The Oaks
4 - 5 Years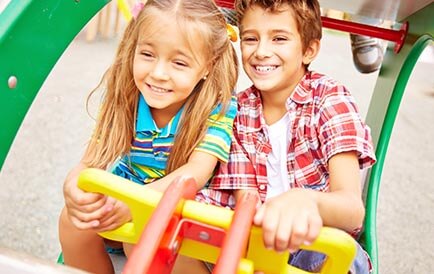 Our Oaks Pre-Kindergarten Program is designed with your child in mind. In order for us to successfully create this curriculum, we place ourselves on the children's level and experience what they experience. It is important to us that the children learn through play and enjoy what they are learning. The Learning Tree Preschool has designed a curriculum that is theme based and employs the daycare teachers' creativity and educational experience to ensure your child's academic success.
Schedule a Tour
Enroll
Goals for the Oak Classroom:
Our goal is for each child entering the kindergarten classroom with confidence and enthusiasm! We want each child to perform at his/her highest level. Our daycare teachers make sure each child begins kindergarten with a well-rounded school background that comes from the variety of childcare classroom experiences and skills focus below:
What specific goals does Learning Tree have for a Preschool graduate?
Socially the child can play well with others, work in a small and larger group setting and respect classmates, daycare teachers and school materials.
Emotionally the child separates from home easily and looks forward to school, understands taking turns, can wait for the childcare teacher's attention, expresses himself appropriately and knows when to ask for help.
Cognitively the child being curious about the preschool classroom, community and world and is eager to try new activities (writing, letters and sounds, scissors, exploring art materials, books, sight words)
Physically the child has good fine and gross motor coordination
Self-help skills including: dressing self, ability to care for oneself (using the bathroom, hand washing, eating, gathering supplies and cleaning up).
How does Learning Tree prepare students for kindergarten?
We focus on hiring experienced and well qualified preschool teachers who are trained continually on early learning best practices.
A strong and creative curriculum allowing ample time to explore a theme with classmates, lots of quality time to learn through play, and time to interact socially with classmates.
Freedom to express themselves with art, which focuses on the process versus the product.
Multiple opportunities to hear and experience quality children's literature each day.
Realistic expectations in terms of developing self-help skills, following directions and interacting appropriately in a school setting.
Community outreach with partners for optimal development.
Our Oaks program offers a full time option only for $200.00 per week.
We require an annual $100.00 registration/supply fee per child.
Tuition and Enrollment Policies
Blanket: No larger than standard "throw" and must fit in cubby
Crayons: 1 Box of Jumbo Crayons
Elmer's Glue: Boys
Glue Sticks: 2 Sticks
Markers (washable): 2 packs of thin markers
Paint set, water color, 8 basic colors
Clear Pencil Box
Photos
Playdough
Safety Scissors
Shoes
Plastic Container: Shoebox sized
Tissues: Three 200 ct. boxes
Trash Bags: two packs of 13 gal.
Baby Wipes: 3 Packs for classroom use
Clorox Wipes
Ziplocks: 2 boxes gallon size
| 7:00 AM - 8:30 AM | Arrival/Free Choice/Routine Care |
| --- | --- |
| 8:30 AM - 9:00 AM | Free Choice/Optional Teacher Directed Activity |
| 9:00 AM - 9:45 AM | Wash Hands/Morning Snack/Free Choice/Routine Care |
| 9:45 AM - 10:30 AM | Outside Play/Learning Time |
| 10:30 AM - 11:00 AM | Small Group Time/Wash Hands/Routine Care |
| 11:15 AM - 11:50 AM | Lunch Time |
| 11:50 AM - 12:45 PM | Circle Time/Routine Care |
| 12:45 PM - 1:00 PM | Mats Down |
| 1:00 PM - 3:00 PM | Rest Time/Quiet Free Time |
| 3:00 PM - 3:30 PM | Afternoon Snack |
| 3:30 PM - 4:15 PM | Outside Play |
| 4:15 PM - 5:00 PM | Wash Hands/Free Choice/Visitor Activities |
| 5:00 PM - 5:30 PM | Activity/Free Choice/Routine Care |
| 5:30 PM | Center Closed |
Routine care is done on an individual schedule or as needed. Diapering is done every 1.5 to 2 hours or as needed.
If we can't go outside then physical activites will be provided in the childcare classroom. Such as a pop-up tunnel, music and movement, dramatic play, blocks, obstacles, etc.
Activity will include music, art, manipulative, story time, reading, writing, and math tasks.